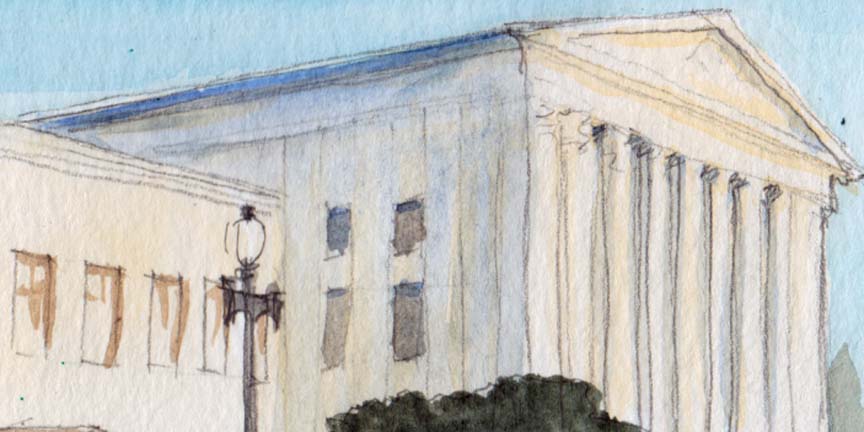 Posted Mon, March 16th, 2020 11:06 am by Amy Howe
This morning the Supreme Court announced that, in "keeping with public health precautions recommended in response to COVID-19," it would postpone its March argument session, which had been scheduled to begin on March 23. The justices did not set a new date for the 11 arguments slated for the March session, which include the dispute over access to President Donald Trump's financial records. The court indicated only that it "will examine the options for rescheduling those cases in due course in light of the developing circumstances."
The notice followed Thursday's announcement that the court would be closed to the public "until further notice" in response to the spread of the coronavirus. Today's press release made clear that other business would continue at the court, most notably the justices' private conference, scheduled for Friday, March 20, to consider new cases for their docket. However, the court noted, some of the justices (six of whom are over the age of 60) "may participate remotely by telephone." Orders from that conference will be released on the court's website on Monday, March 23, at 9:30 a.m.
In recent years, the Supreme Court has rarely cancelled or postponed argument sessions even when other governmental institutions have shut down, either because of inclement weather or for budgetary reasons. However, today's announcement emphasized that the "postponement of argument sessions in light of public health concerns is not unprecedented." Not only did the court postpone arguments in October 1918 in response to a Spanish flu epidemic, as Tom Goldstein discussed yesterday, but it also "shortened its argument calendars in August 1793 and August 1798 in response to yellow fever outbreaks."
This post was originally published at Howe on the Court.
Recommended Citation: Amy Howe, Justices postpone March argument session, SCOTUSblog (Mar. 16, 2020, 11:06 AM), https://www.scotusblog.com/2020/03/justices-postpone-march-argument-session/
http://feedproxy.google.com/~r/scotusblog/pFXs/~3/IqFQGiEcffo/